Stiffness after Shoulder Surgery
Authors: P Monga, H Ni Raghallaigh, L Funk
References: 2010
Background: Stiffness after shoulder surgery can be debilitating and is of significant concern to the patient, surgeon and the therapist. We performed this study to investigate the recovery of range of motion following shoulder surgery, the incidence of post-operative stiffness and it's outcome.
Methods: Range of motion in all patients (319) who underwent shoulder surgery over a one year period was reviewed. After various exclusions 265 patients (280 procedures) were included in the study. Time needed to regain full range of motion was recorded for every patient. Stiffness was graded as Grade 0 (no stiffness), Grade 1 (loss of a third of Range of motion), Grade 2 (loss of up to two-third range of motion) and Grade 3 (Loss of Greater than two-third of range of motion). Patients with residual stiffness were followed up until resolution or discharge.
Results: Postoperative range of motion returned to normal in 70% of patients within 3 months, 93% patients within 6 months, 96% patients within 9 months and 98% within a year after surgery. 84% patients with Grade 1 stiffness recovered complete range of motion at 6 months whereas only 50% of Grade 2/3 stiffness returned to normal at 6 months (p=0.04). All the patients with Grade 1 stiffness resolved satisfactorily by non-operative measures (physiotherapy, injection, analgesia or anti-inflammatory medication) whereas 4 patients (25%) who developed Grade 2-3 stiffness required active intervention in the form of either arthrographic hydrodilatation or arthroscopic capsular release.
Conclusions: Although, minor (Grade 1) stiffness after shoulder surgery occurs commonly despite early mobilisation rehabilitation protocols, it resolves rapidly without further surgical intervention. Grade 2/3 stiffness has a more protracted course and active intervention can lead to earlier resolution and recovery.

---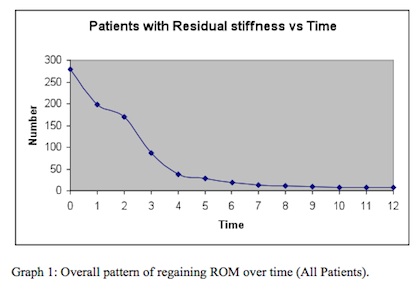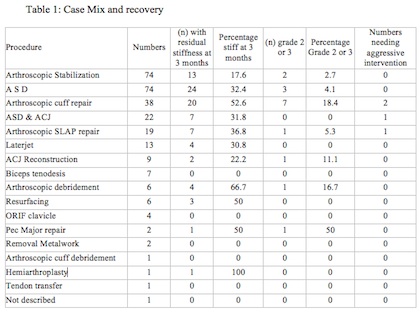 ---