HYALURONAN VS. STEROID INJECTION FOR SUBACROMIAL IMPINGEMENT OF THE SHOULDER
Authors: L Funk
References: Osteoarthritis and Cartilage, Volume 13, Supplement A, page S80, 2005
Abstract

Aim:
The aim of this study was to compare a synthetic Hyaluronan (OstenilPTMP) to a corticosteroid injection (Depomedrone) for primary subacromial impingement of the shoulder.
Methods:
In a retrospective review, thirty one patients with primary subacromial impingement of the shoulder were randomly given either a 40mg Depomedrone injection or Ostenil injection. No patients had undergone previous surgery. All had physiotherapy following the injection. Patients were given a Pain Diary with a ten point visual analogue scale to complete.
Results:
There was no difference between the two groups with regard to age and sex. Both steroid and Ostenil reduce the pain score in the first two to four hours post-injection, but in the Depomedrone group the pain score increases significantly from 12 hours to 2 days post-injection. This effect is not observed with Ostenil. This difference is significant (p<0.05) between 18 hours and 3 days post-injection. From 4 days the pain score is similar, with an equal reduction in pain in the two groups. Conclusions: Ostenil Hyaluronan appears to be as effective as Depomedrone in reducing subacromial impingement pain, but does not produce the pain surge associated with Depomedrone in the first few days post-injection.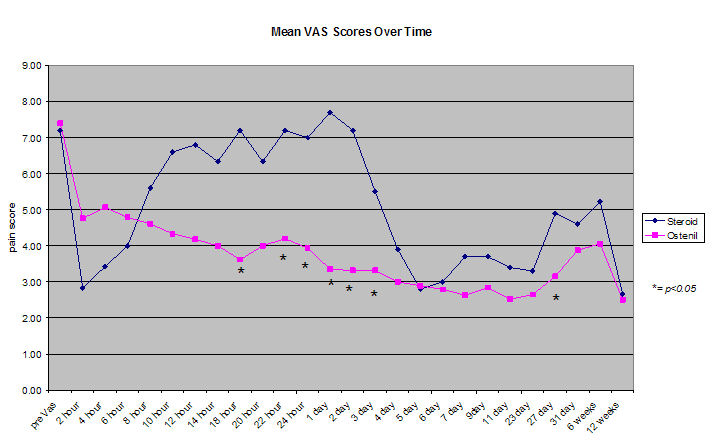 Click here to see high resolution graph