Exciting times in diagnostic imaging
References: british j intensive care - autumn 2005 - vol 15 no 3 pg 84
To mark the availability of the MicroMaxx™ in the UK, Sonosite – a US-based world leader in the provision of advanced ultrasound equipment – presented the system to clinicians at a gathering in London. Sir Matthew Pinsent was the guest speaker and Graham Cox, SonoSite Vice President for Europe, the Middle East and Africa and Bernard Vincent, General Manager for SonoSite in the UK, represented the company.
The MicroMaxx™ system is a handheld ultrasound device which is about the size of a laptop computer. It weighs less than 3.7 kg and provides image resolution and performance comparable to conventional non-portable systems.
Clinical perspectives of the product were presented by:
Dr Richard McWilliams, Consultant Radiologist at the Royal Liverpool Hospital, who commented that the MicroMaxx™ system's image resolution and functionality was its biggest asset in comparison to previous systems. We now have a top quality grey-scale imaging and Doppler ultrasound, available in a hand-carried machine", he said.
Mr Lennard Funk, Consultant Shoulder & Upper Limb Surgeon & Honorary Clinical Lecturer, Hope Hospital, sees one of the biggest advantages of hand-carried ultrasound such as the MicroMaxx™ system as being "able to take the diagnostic scanner to the patient at the point of clinical care so avoiding delays in diagnosis and treatment … and it is also much more convenient for the patient as they can see immediately the problem within their shoulder right there on the screen".
Dr Harald Becher, Consultant Cardiologist, John Radcliffe Hospital, Oxford, commented "Bulky echo scanners limit the use of echocardiography, and the majority of echocardiograms are performed in special echo labs. Using small scanners the workflow can be markedly shortened and made less expensive".
In his summing up Dr McWilliams concluded that the "potential for point-of-care diagnosis and treatment increases with such a significant improvement in the ultrasound machine. These are exciting times in diagnostic imaging, and we will undoubtedly see new users and new users for ultrasound in the wake of these improvements".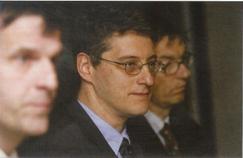 Richard McWilliams, Lennard Funk & Harald Becher