Arm Immobiliser Sling Application
Arm Immobiliser Sling Application
The arm immobiliser sling has a under-arm holster style attachment instead of a waist band. Many patients find this more comfortable (especially ladies) and we prefer it as our standard post-operative sling.
Prior to fitting the sling ensure that your shoulders are symmetrical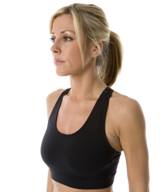 If fitting the sling without assistance, ensure that you are seated, with your elbow bent to 90 degrees (a right angle).
You will find it more comfortable if your arm is supported on a pillow. Slide the sling in from behind so that your elbow fits snuggly into it.
Correctly align the plastic triangle that connects all three straps over your shoulder blade of the unaffected arm. The length of the back strap may be adjusted by detaching the strap end and reattaching it along the strap length. Loosely drape shoulder strap over shoulder.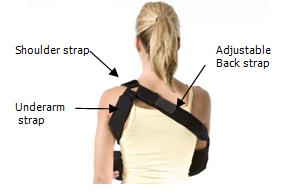 Pass the shoulder strap over your opposite shoulder and through top ring at the front, and pull through.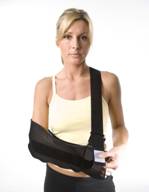 Attach the strap so that your forearm is comfortably supported at stomach level. Secure the strap in front of torso. If necessary, adjust strap length.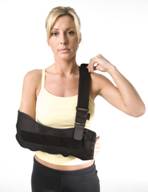 Wrap the underarm strap under the unaffected arm, with the clip attached. Attach the short strap with the articulated clip to the triangular ring. Secure strap end to strap snugly.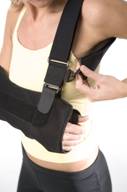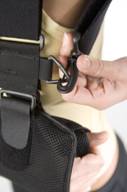 Final position from the front and back: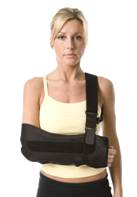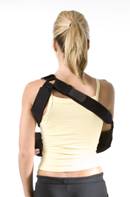 Purchase the Arm Immobiliser online here
---