Arthritis of Sternoclavicular Joint
Arthritis of Sternoclavicular Joint
Lennard Funk
Many forms of arthritis can affect the sternoclavicular joint (SCJ), but the most common is osteoarthritis.
Osteoarthritis is a degenerative arthritis that tends to get worse with age.
Osteoarthritis can also follow injury to the joint.
Swelling and pain are the main signs of arthritis of the SCJ
The diagnosis is confirmed with x-rays and/or MRI or CT scans.
Treatment involves rest and anti-inflammatory medications. This works for most people. If the symptoms of osteoarthritis do not respond to this treatment then steroid injections can be beneficial.
If the pain is so severe that it is affecting your sleep and life, with no benefit from painkillers and injections, then surgery may be needed.
Surgery involves removing the damaged surfaces of the SCJ. Surgery in this area is risky, as very important blood vessels and the trachea (windpipe) lie just behind the SCJ. Scars in this area can also look prominent and thick in some people.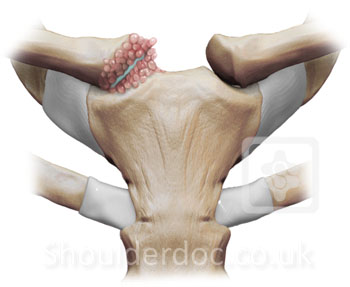 Sternoclavicular joint arthritis
---