Shoulder Ultrasound for Clinicians
Shoulder Ultrasound for Clinicians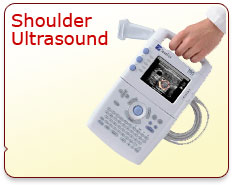 Ultrasound of the shoulder is generally performed by radiologists in the UK and USA, but by surgeons and clinicians on the European mainland. This is purely historical, determined by who adopted the technology first and applied it clinically.
With the advent of small portable devices and the rapidly improving visualization technology of ultrasound it is becoming easier for clinicians to use these devices.
Ultrasound is however dependent on the experience of the operator and thorough training in it's use is essential. This can be very difficult for a clinician to acquire. The Royal College of Radiologists in the UK and EULAR offer guidance on training, but hands-on practice is essential under the supervision of an experienced ultrasonographer. Surgeons, however, do have the unique advantage of being able to validate their scans at surgery. Thus, shortening the learning curve substantially.
Office Ultrasound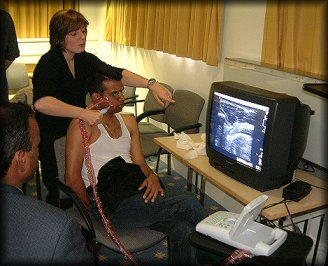 Office ultrasound of the shoulder, performed at the time of first presentation offers the following advantages:
Immediate diagnosis and confirmation of the rotator cuff pathology, allowing:

One stop clinic, avoiding patients being sent away for a scan and then return a few weeks (or months) later with the result.
Management planning and listing for the appropriate surgery at that visit, thus reducing waiting time for surgery.
Patients to know their diagnosis immediately and plan accordingly.

Allows therapists treating patient to manage accordingly
Patient convenience
Surgeon convenience
Cheap - avoids cost of MRI and the radiology department costs.
Quick
Safe - no dangerous radiation
Elimination of unnecessary injections - if a patient has a rotator cuff tear I would not inject the subacromial bursa with steroid usually.
This 'One-stop clinic' approach is popular with patients and is excellent for teaching purposes and honing clinical examination skills.
Ultrasound Machine
I currently use both the Sonosite MicroMaxx and GE Logiq E machines with a high frequency 38mm linear array transducer. It has the following advantages for me:
Portability:

light and easy to transfer between cubicles and rooms in a busy clinic setting.
Long life rechargeable battery, so no need to plug-in all the time.
Backpack allowing easy transfer between hospital sites

Quick - starts up quickly and shuts down with the click of a button
Comfortable and easy to use probe
Measurement Tools - easy to measure objects
Easy to enter patient information with keyboard
Fully digital so images are saved as seen, with all patient and measurement data
Connectivity to external monitors, TV screen, various printers etc.
The ability to save images video sequences and download them CD and flash drives for patients to keep.
Simple backup to save all examinations onto my PC and automatically organises all the examinations in logical files, so they are easy to retrieve.
| | |
| --- | --- |
| | Sonosite Micromaxx Handheld Ultrasound Scanner |
| | GE Logiq EHandheld Ultrasound Scanner |
| | 38mm linear array transducer - ideal for shoulders |
Ultrasound Diagnosis
Ultrasound can reveal many different diseases of the shoulder :
S ubacromial impingement / bursitis - when the bursa is too thick (more than 2 mm thick or clearly asymmetric with the asymptomatic shoulder ) and there is excess fluid in the bursa. This can easily be seen on ultrasound
Calcific Tendonitis - These calcifications are of course almost always seen on the plain films. However, in some cases, they are missed because of their location (subscapularis calcifications) or direction of the x-ray beam . The appearance of the calcifications on ultrasound can predict their action on the symptomatology. Thin, long calcifications are often asymptomatic whereas thick, rounded or irregular calcifications give rise to symptoms. The amount of posterior attenuation can also predict the hardness of the calcifications, eventually helping when arthroscopic removal of the calcium deposits is considered for treatment .
Complete rotator cuff tears are well seen with ultrasound.

D irect signs include :

flattening of the superficial border of the tendon - the normal tendon is convex.
hypoechoic zone separating the tendon edges
absence of the normal tendon, replaced by a thin hypoechoic line representing the hypertrophic bursa surrounding the greater tuberosity
compression test - compression of the tendon causes flatening as the tendon edges are further pushed apart. The intact cuff cannot be compressed.

Indirect signs include :

effusion around the long head of the biceps tendon
double effusion sign : this sign includes a joint effusion seen around the biceps tendon and subacromial subdeltoid bursitis; it is more specific for a rotator cuff tear; some authors quote a positive predictive value as high as 95% .
greater tuberosity erosions : this is a sign of enthesopathy, but this condition is often related to a rotator cuff tear .
cartilage interface sign
deltoid herniation : the deltoid muscle bulges deeply into the gap o f the rotator cuff
muscle atrophy : fatty infiltration of the supraspinatus or infraspinatus muscles are seen in their respective fossae; comparison with the other side can help to make this diagnosis; the involved muscles are abnormally hyperechoic; the subscapularis muscle cannot be seen when it goes between the scapula and the chest wall.

Partial rotator cuff tears can also been identified , although the accuracy is lower than for complete tears.
Long Head of Biceps - extra-articular Biceps pathology can be seen, such as fluid and inflammation of the sheath, subluxing or dislocated biceps, biceps tears and osteophytes in the biceps groove. I find ultrasound to be the most useful investigation for extra-articular biceps pathology
Acromioclavicular Joint pathology - can be easily seen on the upper surface which is superficial. Osteophytes of arthritis can be easily seen. Swelling of the joint and capsular thickening can be seen, both signs of inflammation. Osteolysis of the lateral clavicle can be diagnosed.
Hill-Sachs Lesions - in cases of shoulder instability, I prefer to measure the defect in the posterior humeral head (Hill-Sachs lesion) using ultrasound. This is more accurate than x-rays and can be done at the clinic visit.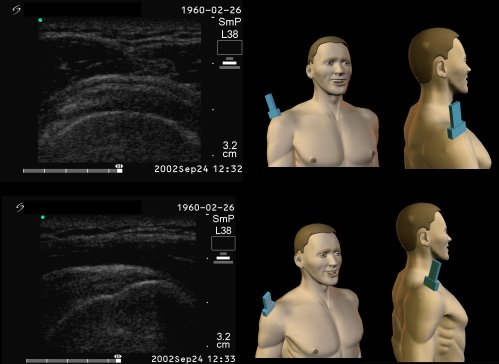 Ultrasound scans of a Normal rotator cuff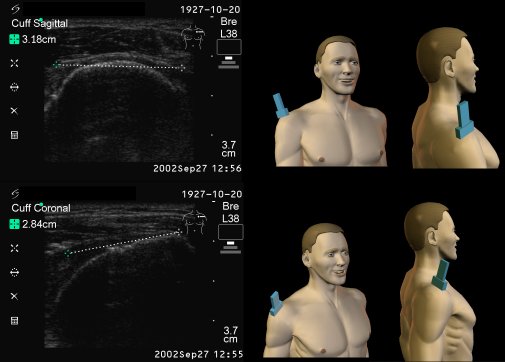 Ultrasound scans of a full thickness rotator cuff tear (with measurements)
Ultrasound Technique
There are many variations on the standard technique for performing shoulder ultrasound. I prefer the patient to be involved in the examination and directly looking at the screen with me, talking through the findings and their significance. Most patient's are unable to put their arm behind their back, therefore putting the hand on hip also allows for adequate examination of the cuff and is far more comfortable for the patient.
Click here for the full technique (my preference).
Ultrasound Accuracy
Being an operator-dependent and a device-dependent technique, ultrasound of the shoulder may give very divergent results. Below is the three year results of an audit of my practice, done in 2006 and published in the International Journal of Shoulder Surgery :
| | | | | |
| --- | --- | --- | --- | --- |
| | Sensitivity | Specificity | Positive predictive value | Negative predictive value |
| Complete tears | 92% | 95% | 87% | 92% |
| Partial tears | 86% | 95% | 86% | 90% |
| | | | | |
Generally, the results are as good as those of MR for complete tears and suitably trained clinicians are as good as equally trained radiologists.
Conclusion
Ultrasound is a quick, easy, cheap imaging process for the diagnosis of soft tissue shoulder diseases.
Performed at the first consultation it offers the advantages of patient and surgeon convenience and shorter waiting times. It is, however, dependent on the skill and experience of the operator who needs to be suitably trained to perform it.
---
Further Reading:
Jeyam M, Harris J, Funk L. Are Shoulder Surgeons Any Good At Diagnosing Rotator Cuff Tears Using Ultrasound ? - A comparative Analysis of Surgeon vs. Radiologist. International Journal of Shoulder Surgery. 2(1):4-7. 2008. - Journal Link

Milgrom C, Schaffler M, Gilbert S, van Holsbeeck M: Rotator-cuff changes in asymptomatic adults. J Bone Joint Surg. 77-B:296-8. 1995

Mack L, Matsen III F, et al: US evaluation of the rotator cuff. Radiology. 157(1):205-9.1985.

Middleton W: Ultrasonography of the Shoulder. Rad Clin No Amer. 30(5):927-40.1992

Sonnabend DH, Hughes JS, Giuffre BM, Farrell R: The clinical role of shoulder ultrasound. Aus NZ J Surg. 67:630-3. 1997.

Hoy G, Hayes MG et al: Ultrasound imaging and arthroscopic diagnosis of rotator cuff tears. J Bone Joint Surg Br. Suppl. 2:110. 1994.

Hodler J, Fretz CJ, Terrier F, Gerber C: Rotator Cuff Tears: Correlation by sonographical and surgical findings. Radiology. 169:791-4. 1988.
---
Useful Links:
---